An Arnold IT CORE Report for Law Enforcement, Security and Intelligence Professionals and Organizations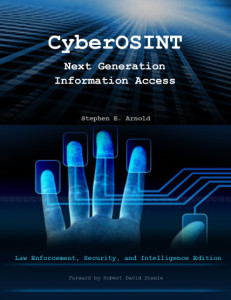 CyberOSINT focuses on the rapidly-expanding field of automated collection and automated analysis of open source information. Online public content posted on social media contains signals that can provide intelligence and law enforcement analysts early warning of threats, cyber attacks or illegal activities.
Using highly-automated systems, governmental entities and corporations can detect and divert cyber attacks and take steps to prevent assaults and apprehend the people that are planning them. Manual methods such as key word searches are inadequate due to the volume of information to be analyzed and the rapid speed with which threats arise.
This monograph has a single goal: Provide an individual engaged in investigatory work, military operations, and intelligence activities with a collection of technology capability summaries about companies building next-generation tools.
NGIA systems are integrated solutions that blend software and hardware to address very specific needs. Our intelligence, law enforcement, and security professionals need more than brute force keyword search. This report will help clients save hundreds of thousands of dollars. – Robert David Steele, CIA Project George (DA/OIT) and co-creator of Marine Corps Intelligence Activity
CyberOSINT: Next-Generation Information Access is
available for $49 at gum.co/cyberosint
Read our press release  |  Download the free sample version
For more information, please email benkent2020 [at] yahoo [dot] com.
Topics covered

Getting Oriented to NGIA
Introduction: Horses to Helicopters
Automatic Processing of Content
From Historical Analysis to Predictive Analysis
Securing the Perimeter via OSINT
Language Translation Systems
Real Time Geo Data
Profiles of Selected NGIA Solutions
Key Findings
Toward the Horizon
Glossary of Cyber OSINT terms

  Companies profiled in the monograph

Autonomy
Aveshka
BAE
BASIS
BrightPlanet
ClearTerra
Cyveillance
Centripetal Networks
Decisive Analytics
Expert System
Google
Haystax
IBM i2
HIS
Kapow
Knowlesys
Leidos
Palantir
Recorded Future
SDL
Semandex
ZeroFOX
What law enforcement, intelligence and business professionals are saying about CyberOSINT: Next Generation Information Access:
CyberOSINT is the first discussion of the innovative software that makes sense of the flood of open source digital information. Law enforcement, security, and intelligence professionals will find this an invaluable resource to identify automated ways to deal with Big Data. – Dr. Jerry Lucas, President, Telestrategies ISS
This book is an important introduction to cyber tools for open source information. Investigators and practitioners needing an overview of the companies defining this new enterprise software sector will want this monograph. – Chuck Cohen, Lieutenant with a major Midwestern law enforcement agency and adjunct instructor at Indiana University
An important resource for an investor wanting to get an overview of the companies defining this new Cyber OSINT software sector. – Robert Peck, Managing Director and Internet Equity Analyst, SunTrust Robinson Humphrey